this hat is going to a very special person:
this is the
waffle beanie
from the february 2011 issue of simply knitting. knit with patons classic wool merino in natural mix, on size 7 needles. pattern is pretty easy.
oh yeah, why i knit this hat. this waffle beanie is destined for
tom marino
, my congressman. it's is his first term in congress. my hat is part of
Warm Hats, Not Hot Heads
, a initiative started by knitters to provide a hat to each member of congress, as a reminder to "be kind to each other" while in session (well, all the time really).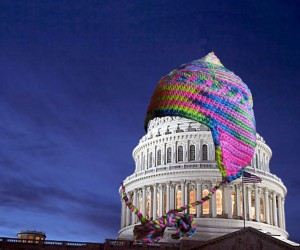 image courtesy of annie modesitt
this is the note that will accompany the hat to Mr. Marino's office:
Dear Mr. Marino,
This hat was hand knit with care for you. Many of your colleagues will also be receiving hats from knitters of all political stripes and from all around the nation.
Why a hat? Knit hats meet a simple need for warmth. They are an every day comfort. Everyone can use a good hat.
Civil political discourse also meets a simple need - the need for our government to have the best information and insights from many viewpoints. It would be an every day comfort to me and many other Americans if the airwaves were free of hate-filled rhetoric, and it would lead to good government. As I'm sure you agree, everyone can use good government.
Thank you for your service, and best regards,
divamcknitster (obviously, my real name)
P.S. More information about this effort, Warm Hats, Not Hot Heads can be found at
http://twinset.us/?p=3732
or http://spindyeknit.com/2011/01/lets-change-the-world/. If you can not personally use this hat, please donate it to a worthy charity.
i try to keep my political opinions out of my blog, but i felt that this was a safe way for me to flex my political muscle, and express my thoughts. no one can argue that our representatives need to be excellent to each other, despite varied beliefs.
details for WHNHH is
here
- there is also a
spreadsheet
where you can choose someone to knit for (as i had) or you can send hat(s) to the coordinators and they'll see to it that someone receives your hat.
the goal was to send the hats on or around february 28, but i have a feeling that hats will be trickling in long after cold weather has left for the season.